No matter how high or low your required relief set pressure, GS Hitech has the device to meet your needs. If you are interested in learning more about our Pressure Relief Devices, do not hesitate to contact us to have your questions answered by our qualified sales team.
---
OSECO Pressure Intelligence
Oseco manufactures rupture discs, explosion vents, holders, sensors, and other pressure relief products. Oseco's intelligent pressure relief systems protect people, plants, processes and the environment across the globe. As a leader in technically advanced pressure relief products, Oseco delivers unique design, testing and consultancy services for pressure management.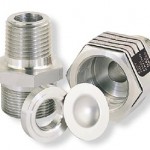 PROTECTOSEAL Safety Without Compromise
For over 85 years, Protectoseal has been an industry pioneer and leading manufacturer of quality products that conserve and control volatile emissions and protect low pressure storage tanks, vessels and processes from fire and explosion.
Protectoseal's integrated line of pressure and vacuum relief vents, flame/detonation arresters, and related vapor control devices are used primarily in process industries.
---
Contact GS Hitech today for all your Pressure Relief Devices needs.